Managing Parkinson's with Exercise
What do Johnny Cash, Mohammed Ali and Michael J. Fox have in common?
Besides being famous, they all lived/are living with Parkinson's Disease.
So what is Parkinson's Disease?
Parkinson's Disease (PD) is a progressive movement disorder of the nervous system. Symptoms include, but are not limited to tremors (shaking), muscular rigidity (stiffness), slowed movements and balance problems. Depression, pain and memory loss are all associated symptoms of PD. Parkinson's Australia suggests there are approximately 70,000 Australians' living with Parkinson's. The average age of diagnosis is 65 years.
There is currently no cure for PD nor any understanding as to why an individual develops PD. There is however medication that can control the symptoms by either maintaining or replacing the chemical 'dopamine' (a neurotransmitter that allows the cells to communicate in the brain).
 How does exercise help?  
Exercise hinders the complications of the disease, improving mobility, physical function, balance and quality of life. Various types of exercise assist with the different components of fitness. Cycling can improve aerobic functioning but also improve coordination.Resistance training (weights) can improve strength and muscle mass. Dancing can improve coordination, balance and stability. However, what exercise is the best for Parkinson's Disease?
Research suggests that:
–          Dual-tasking exercises are great for coordination. I.e.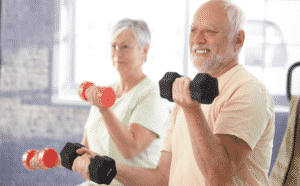 walking and counting backwards.
–          Resistance training that is individualised to the person (being mindful of fatigue).
–          Walking on a treadmill is great to improve gait initiation, speed, stride length, balance and coordination.
–          Dancing is a great way to incorporate social interaction and facilitate expressive movement.
Individualised exercise program may be more beneficial than supervised group exercises as they cater for the abilities and preferences of the person affected. An Exercise Physiologist can assist in designing these programs. So come in and meet Angelique to 'shake up' your routine!
Also, have a watch of this inspirational video of Michael J Fox explaining what it is like to live with Parkinson's: https://www.youtube.com/watch?v=ECkPVTZlfP8
Angelique Houridis: 9553 9823
Accredited Exercise Physiologist